​Lt. Greg Johnson
​Patrol Division
The Patrol Division is the first line of response for emergencies and other incidents requiring law enforcement presence throughout the county. The Patrol Division responds to both emergency and non-emergency calls that are dispatched from our communications center. In addition, it provides visible patrol within the jurisdiction for both rapid response and crime deterrence through presence. Patrol Deputies are responsible for generating initial reports and handle a multitude of other special functions. Additional duties of the Patrol Division include traffic enforcement, serving civil process, conducting initial criminal investigations, crime scene processing, conducting searches for missing or endangered person(s), making arrests, transporting of person(s) in custody, and various other law enforcement related services. The primary goal is to be responsive in providing professional, courteous and reliable law enforcement presence, with priority on the areas of greatest need, as may be dictated by the circumstances. In order to provide maximum coverage and to keep the cost of services to a minimum the Patrol Division also incorporates part-time and auxiliary deputies, as a means to provide additional manpower and supplement our patrol capabilities.

Many of the diverse functions and duties of the Patrol Division are carried out under the most adverse of conditions. Deputies work in all types of inclement weather conditions, responding to emergencies, warning of hazards, and providing initial protection to people in need throughout the county. Patrol Deputies are often called upon to take risks in an effort to protect others from danger or being victimized.

The citizens of Holmes County can rely on the Patrol Division for courteous, professional, and compassionate service.


Sgt. Tim Scott
Dep. Zach Neitsch
---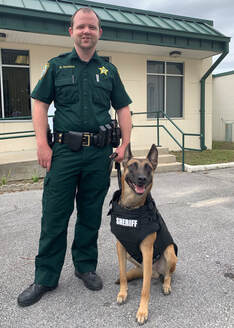 Dep. Wade Strickland
K9 Lasso

The Holmes County Sheriff's Office K-9 Team, Lasso and handler, Deputy Wade Strickland assist law enforcement. The team is certified in the detection of illegal narcotics. In the support of the community the K-9 Unit conducts demos for local schools, community organizations, civic groups, and crime watch meetings. Please contact Lt. Greg Johnson at 850-547-4421 if you would like to schedule a demonstration or fill out the form below.